ADC CAST OPTICAL FILTERS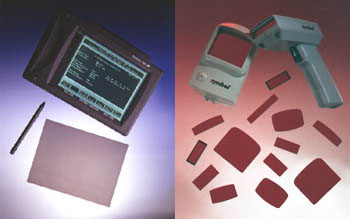 Instrument & Imaging




Displays

Data & Signal




Capture

 
Your next project deserves the best and ADC Cast Optical Filters provide the best solution for high quality display devices and data capture systems. 
Fosta-Tek's ADC cast thermosetting optical sheet has excellent optical properties. ADC (CR-39®) was originally developed as a replacement for glass prescription ophthalmic lenses and currently holds over 60% of the prescription lens market. In fact, its optical properties are so close to those of mineral glass, this plastic is often referred to as organic glass. 
Windows and filters made from Fosta-Tek's ADC optical plastic exhibit superior optical performance and display image quality due to ADC's clarity, high light transmission (over 92%), low haze, low yellowness index, high Abbe Value and lack of birefringence.
KEY OPTICAL PROPERTIES OF PRIMARY DISPLAY FILTER SUBSTRATES

OPTICAL PROPERTY

FOSTA-TEK




ADC(CR39 

®

)

POLY

CARBONATE

ACRYLIC

POLY

ESTER

GLASS

TRANSMISSION %




REFRACTIVE INDEX




ABBE VALUE




HAZE %




YELLOWNESS INDEX

92




1.50




59




.3 ~ .9




.6 ~ 1.4

89




1.58




35




.5 ~ 1.0




.8 ~ 1.0




89




1.46




57




2.0




1.5 ~ 2.0

88




1.55




39




2 ~ 4




2.0 ~ 3.0

92




1.52




60




.3




.6



ADC optical sheet is ideal for use in a variety of applications that require a high quality optical filter or display window, including:
ATM Displays

Avionics Displays 

Barcode Scanners

Industrial Instruments

Medical Device Instruments

Navigation Instruments

Oscilloscopes

Outdoor Work Stations 

Portable Test Equipment

Scanning Devices 

Security Sensors

Touch Screens