ADC OPTICAL SHEET HAS THE FOLLOWING ADDITIONAL OUTSTANDING FEATURES:
HIGH OPTICAL CLARITY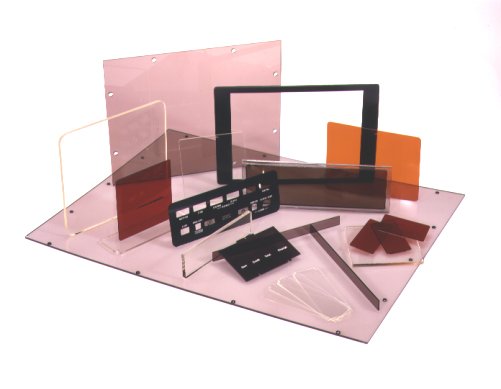 ADC cast sheet is transparent and colorless. With a refractive index of 1.50, it transmits light as well as crown glass and better than other optical plastics. key applications include CRT, LCD and LED displays.
HIGH LIGHT TRANSMISSION
ADC cast sheet has an average light transmission value of 92% which is almost the same as crown glass and higher than other plastic materials. Key applications include Electroluminescent and Liquid Crystal displays.
ABRASION RESISTANCE
The abrasion and scratch resistance of ADC cast sheet is approximately 20 times greater than uncoated acrylic and 50 times greater than uncoated polycarbonate. Key applications include industrial workstations and medical instruments.
CHEMICAL AND SOLVENT RESISTANCE
The excellent optical and mechanical properties of ADC sheet are not changed despite long term exposure to virtually any organic chemical including ketones, alcohols, aliphatic and aromatic hydrocarbons, and to cleaning solvents and alkalis. Key applications include safety shields, and medical, industrial and portable test instruments.
The chart below highlights the superior resistance of ADC/CR-39

®

to long term exposure to a wide range of industrial chemicals.
CHEMICAL/

ADC/

ACRYLIC

POLYCARB

POLYESTER

SOLVENT

CR-39

COATED

COATED

UNCOATED

COATED

Acetone
Other Ketones
Alcohols
Acids (Mineral)
Alkalis
Gasoline
Hydrocarbons (AL)
Hydrocarbons (AR)
Hydrocarbons (HA)
Detergents/Sprays
Amines
Silicone Oils
SR
SR
SR
SR
SR
SR
SR
SR
SR
SR
SR
SR

LR
LR
SR
SR
SR
MR
LR
LR
LR
SR
LR
SR

LR
LR
SR
SR
LR
MR
SR
LR
LR
SR
LR
SR

X
X
SR
MR
X
X
SR
X
X
SR
X
SR

SR
SR
SR
SR
X
SR
SR
SR
X
SR
SR
SR


SR=Superior Resistance (20 hours +)
MR=Medium Resistance (2-20 hours)
LR=Limited Resistance, up to 2 hours contact
X=Attacked Immediately

IMPACT RESISTANCE
ADC sheet, at normal temperatures, has an impact resistance which is second only to polycarbonate, and much greater than tempered glass. Key applications include safety shields and portable instruments.
HEAT AND SPARK RESISTANCE
ADC sheet is resistant to pitting from small hot flying particles, such as welding, cutting or grinding sparks. ADC sheet is also resistant to distortion due to high heat and can be used in applications where acrylics would distort or melt. Key applications include industrial work stations, process control instruments and safety shields.
UL Rated: UL94HB. Fosta-Tek's ADC is manufactured with a higher concentration of ADC monomer (over 80%) resulting in superior flame resistance as evidenced by its UL Rating for horizontal burn (HB).
AGING RESISTANCE
ADC sheet will not craze, flake, haze, yellow, deteriorate, or loose optical properties when subjected to long term aging. UV-stabilized grades are formulated for long term exposure to hostile outdoor environments. key applications include outdoor process control instruments, portable test instruments, and navigation equipment.
YELLOWING RESISTANCE
ADC sheet is more resistant to yellowing from long term light exposure than other optical plastics. key applications include outdoor industrial workstations and safety shields.
LIGHTWEIGHT
With a specific gravity of 1.3 compared to 2.5 for glass, ADC cast sheet weighs only about half as much as glass. Key applications include avionics displays and portable test equipment.
The charts below provide additional specifications.
The chart below illustrates the superior abrasion resistance of CR-39 sheet compared to other optical plastics.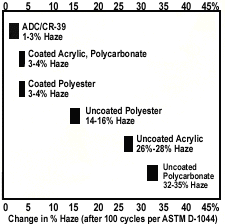 The chart below presents a relative comparison of the key material options. As it illustrates, ADC filters compare favorably to the other optical plastics and glass of 17 of the 21 design features cited, excelling in optical and chemical properties.
SUBSTITUTE SUBSTRATES

PROPERTY
ADC/
CR-39
A
B
C
D
OPTICAL
Light Transmission
Refractive Index
Haze
Yellowness Index

1
1
1
1

3
3
1
1

1
3
3
1

4
3
4
3

1
1
1
1
PHYSICAL
Specific Gravity
Flexural Strength
Hardness
Impact Strength

2
2
1
3

2
1
4
1

2
1
3
3

2
4
2
3

4
4
1
4
THERMAL
Thermal Expansion
Thermal Conductivity
Heat Distortion
Operating Temp.

3
1
1
1

2
3
1
2

2
3
4
4

3
2
2
1

2
3
1
1
ELECTRICAL
Dielectric Strength
Dielectric Constant

3
3

1
1

3
3

3
2

1
1
CHEMICAL
Solvent Resistance
Stress Cracking
Aging Resistance
Plasticizer
Gamma Radiation
Resistance
Welding Spark
Resistance
Range of Colors

1
1
1
1

1

1
1

4
4
3
3

4

4
4

4
4
4
3

4

4
1

2
3
3
1

4

3
3

1
1
1
1

1

1
4
Reference Codes:
1=Major Advantage
2=Minor Advantage
3=Minor Disadvantage
4=Major Disadvantage

A=Polycarbonate
B=Acrylic
C=Cast Polyester
D=Crown Glass